Faces of Magnum:
Darcy Lundberg
With a contagious laugh that lights up the office, Driver Manager Darcy Lundberg is a brilliant problem solver and an even better TikTok star.
Tell us a bit about yourself.
My wife, Leah, and I have four kids. Christian is 26, Olivia is 12, Madelyn is 10, and Brayden is 7. I grew up in Hitterdal, Minnesota, and I graduated from NDSU many, many years ago with a degree in business.  
What is your current job title?
How long have you worked at Magnum?
I've been in the transportation for four years, and two of those years have been with Magnum. 
What's your favorite part about working at Magnum?
Can you tell us a bit about the day-to-day of your job?
Mostly, I'm answering phone calls and solving problems. I get several hundred emails a day – a lot of rescheduling and keeping planners updated on driver situations. Any questions a driver has, they reach out to us, and we figure out an answer for them.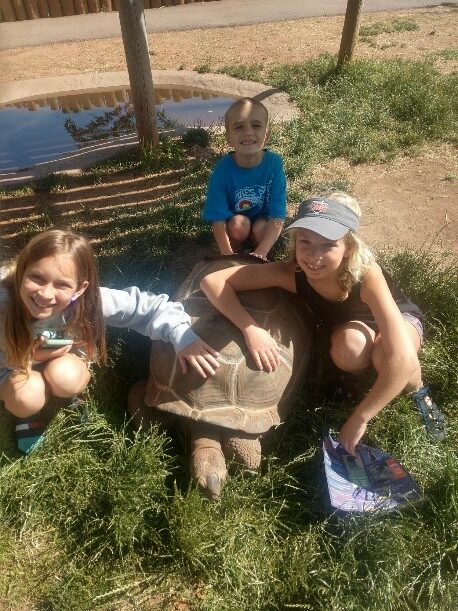 What's the best part of your job?
Getting to know my drivers on a more personal level – meeting their families and kids. I get to go out to lunch with drivers every once and awhile which is fun. 
What is the hardest part about your job?
The hardest part for me is that I don't really have projects that I can cross off a list, so I never really feel that sense of accomplishment. I have to find different ways to feel like I'm accomplishing things. For example, there have been times when an emergency comes up for a driver, and we need to rearrange everything to get them home as quickly as possible. We can almost always make that happen, and I think that's really neat.
What advice would you give to someone just starting out in your role?
Don't take anything personally. You have to let people vent and then move on without letting it get to you. I also always tell new driver managers to figure out a system that works for them. Organization is key, and you need to be able to keep your head when things get nuts. 
What is something you're proud of about your career?
I've developed a great relationship with a lot of my drivers. They trust that I will take care of them. When we add driver managers, a lot of them request to stay with me. That is nice. 
What is something people might not know about you?
I've done a lot of different jobs over the years, but my very favorite one was building grain bins in Ulen. We'd show up to a place with a concrete slab, and when we left, we'd have a big ole grain bin. I just did it for one summer, but it was really fun. 
One day, I was replacing the roof on a bin. While I was taking the bolts off of it, I fell off. I fell about 30 feet. I fractured my finger, but other than that, I was unhurt. I landed on grass which is probably what saved me.
What do you like to do when you aren't working?
I love to visit the lake – swimming, riding the jet ski, pulling the kids on tubes. Also, I'm obsessed with corvettes because they are the most beautiful car in the entire world. 
I do a lot of running around with the kids, softball games and things like that.
If you could have anyone in the world over for dinner — living or dead, real or fictional — who would you choose and why?
My brothers. In '87 and '91, I lost one to cancer and one to a car accident.  
Explore more topics in our other blog posts.
Faces of Magnum: Majestic Pounds
12 Tips for your First 12 Months as a New Truck Driver
Faces of Magnum: Karen Gorney