Faces of Magnum:
Majestic Pounds
Spreading joy and peace wherever he goes, OTR Driver Trainer Majestic Pounds embodies Magnum values both in and out of the truck.
How long have you had your CDL?
I've had my CDL for a little over six years.
How long have you worked at Magnum?
It's been almost three years, and I'm coming up on my second year as an OTR driver trainer.
Why did you choose to work for Magnum?
This is the most respectful and driver-oriented company I've worked for. Also, I really appreciate how truly dedicated Magnum is to understanding the importance of family and maintaining a healthy work-life balance.
Why did you choose to become a truck driver?
I was at a really hard time in my life. I had just lost my mom, and I really didn't know what I wanted to do next. While I went to school for music education, I knew I didn't want to teach. It was a crossroads.
However, my grandad was a truck driver. When I was a kid, he drove log trucks. Every summer, he would take me out with him on the logging routes. He taught me everything, so when I was at that transition point, I was like, "Of course. I should be a truck driver."
Tell us more about your musical background!
In high school, I was a brass specialist. I actually keep a baritone in my truck. When I went to college, however, I focused more on voice. I was the lead tenor in my chorus.
What do you like most about driving with Magnum?
In this industry, a lot of drivers do not understand the true benefit of working for a company where you can go into the office. I've built close relationships with the driver managers, the dispatchers, their bosses and even the owners.
Further, if I have a problem with anything, they are extremely helpful in finding solutions.
What is the best thing about being a truck driver?
The peace and quiet. I get a lot of time to think. And I love that I get to travel and see the country all while making a great income.
What is the hardest thing about being a truck driver?
Being away from my children. They are 10, 4 and 3.
Where is your favorite truck stop?
I'm going to say Hebron, Indiana. The reason why is the parking. It doesn't matter what time of day or night or what happened on the road, there is always parking in Hebron, Indiana.
Do you use a CB radio, and if so, what is your handle?
I'm Magic Man. I only really turn my CB on when there's really bad weather or an accident.
What advice would you give to a new driver?
It's hard to start, but as time goes on, it will become easier. Always take driving as you should take life – as though you are a tree, and you always have room to grow.
What's the best driving advice you have ever received?
I've received a lot of great advice in my career, but I think the best would actually be from when I was in CDL school. It was from an older guy who was training us – I think he had been driving for like 50 years. He was hilarious. This is something a lot of drivers know, but he told us, "Keep your doors closed and your foot on the pedal and just drive." It gets you through a lot and helps you push through the day.
What is something you think everyone should know about truck driving?
The number one thing is to give us space. That's for certain: give us space.
What are the essentials that you cannot live without having in your truck?
I can't live without my APU. I have asthma, so when it gets hot, I can't breathe. I can deal with no heat, but I need A/C. I also just bought this cell phone booster – that's my number one essential. I have service all over the United States. I have not been in a single place with a dead spot since I got that thing.
Oh, and my bug-out bag. I have a bag that I keep with certain things I'll need no matter what happens. That way, if I'm broken down and there is no service so I have to walk or whatever, I can grab that bag and get out.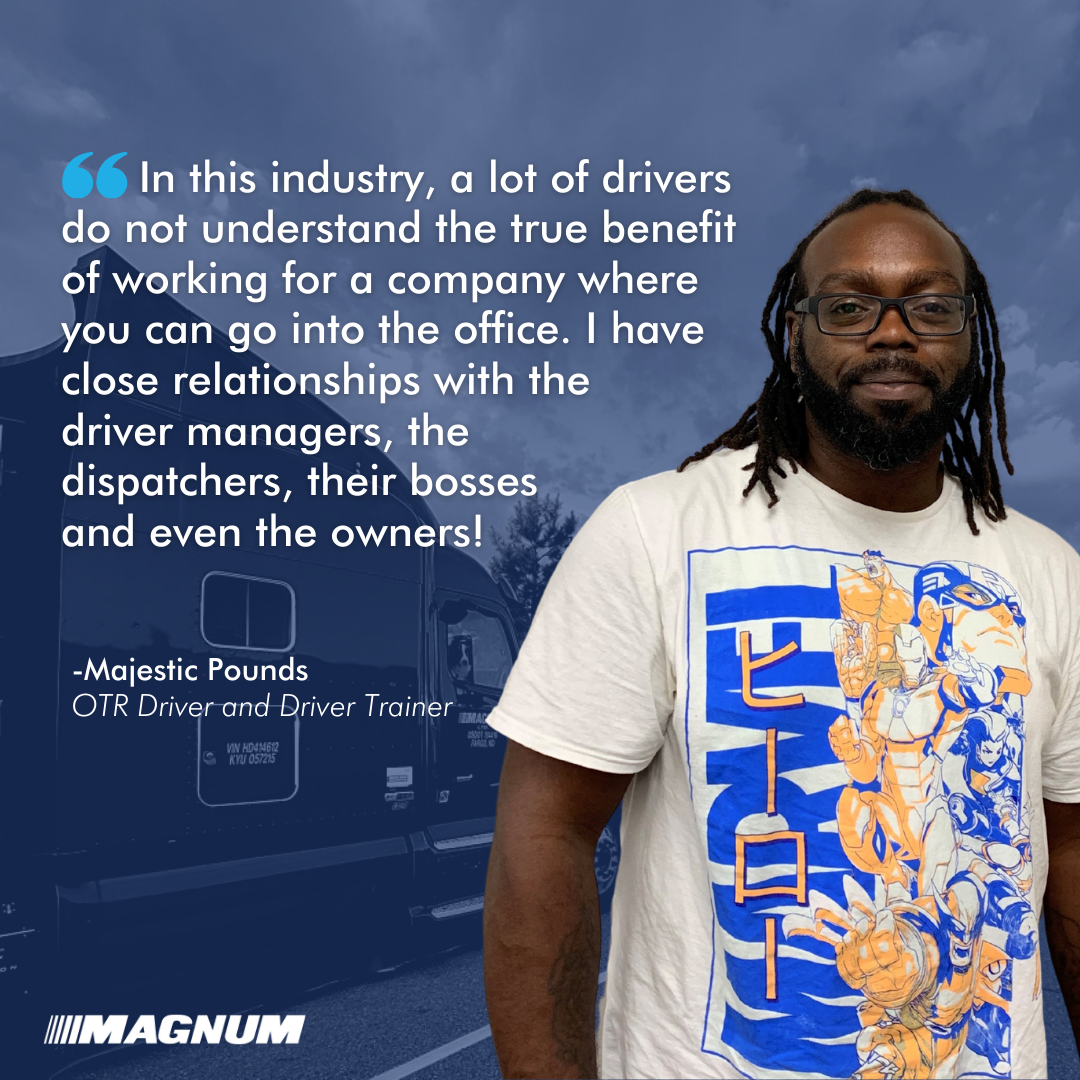 What is the coolest thing you've ever hauled?
I hauled gold when I was driving flatbed. It was in sealed in tubes. Down in Loredo, we used to go in the mines and haul gold, copper – all kinds of things out of the mines. We had to drive in a convoy, and the loads were GPS tracked.  Chase cars followed us. Everywhere we stopped was a secured lot. It was pretty cool.
What is something that people might not know about you?
I think I'm a really good comedian!
What do you like to do when you aren't driving?
I know I might not look it, but I'm an avid outdoorsman. Anything dealing with the outdoors, I love it. Working on guns, building things, hunting, fishing – I just love being outside. It's the most beautiful thing, being connected to nature. That's where I feel at peace.
Explore more topics in our other blog posts.
Faces of Magnum: Nathan Maciej
12 Tips for your First 12 Months on the Road
Faces of Magnum: Renee Knodle