Faces of Magnum: Tony Doll
We sat down with our OTR Recruiter, Tony Doll, to learn more about his time as a driver himself and his current role as a driver recruiter.
Tell us a bit about yourself.
I grew up in Perham, Minnesota, and I am the third of seven kids. I joined the Navy out of high school and served on the USS Coronado (AGF-11) in San Diego. When I got out, I bartended and worked as a cook while I went to college. I earned a Bachelor of Science degree in Mass Communications from Minnesota State University Moorhead. I also just recently earned my Associates of Arts Degree in Human Resources from Minnesota State and Community College.
I had several sales jobs out of college, but none of those jobs really made me completely happy. Turned out, the best part of my week was driving and drinking coffee! So, I pursued a career in truck driving.
I've been married for three years now and have two boys, (a two-year-old and a five month old).  My wife is a NICU nurse at Sanford Children's Hospital here in Fargo. Last summer, we built our forever home in Glyndon, Minnesota. So, we have a very busy but fulfilling home life!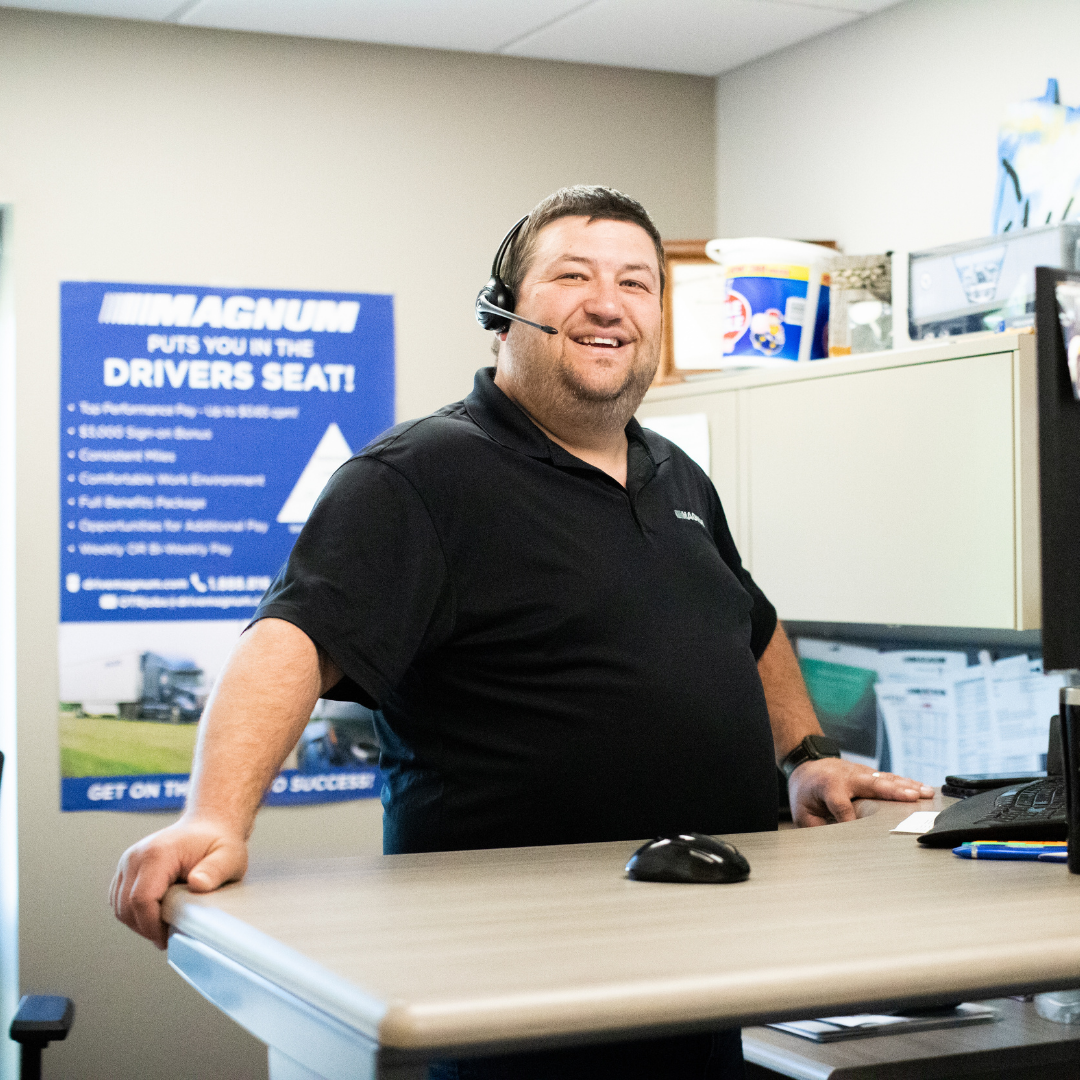 How long have you been an OTR Recruiter at Magnum?
I've been an OTR Recruiter at Magnum for just about five years.
How long were you a driver before becoming an OTR Recruiter?
I started here at Magnum right out of truck driving school to go over the road. I spent three years over the road and even trained a couple new trainees during that time. I made a lot of money over the road and bought a house, but I wanted to enjoy the house so I moved to a local driving position with Magnum shuttling parts to and from the CNH plant.
Then, I realized that LTL drivers make more than I was making, so I moved over to LTL. I pulled doubles and triples to Grand Forks, ND and back for the first few months, then I moved to a P&D position for a while.
It was coming into winter and the little voice in the back of my head was reminding me that I have a college degree, and since I'm still paying on those loans, I should look for an inside office job. I applied for two different dispatcher positions. I came in second place for both of them, but then I saw a Transportation Trainee position with LTD Dispatch. I applied and was offered the job a few weeks later.
About two months into that office job, our long-time recruiter Paul Ellens passed away. I was encouraged to apply by just about everyone, and it took a few weeks to actually act on it, but it all worked out and here I am!
Does your experience being an OTR Driver yourself help you in your work now as an OTR Recruiter?
Absolutely!!! I have the advantage of actually having done the job that I recruit for. I can relate to other drivers better, and I have on the road stories too!
I think one of the biggest missing links between companies and drivers is that drivers are not professional application filler-outers. There is a whole chapter in the Federal Motor Carrier Safety Regulations (FMCSR) book about what is required on an application. Part of my job is to coach driver applicants to fill out their application so that it is legal and qualifying!
Having driving experience helps me relate to drivers and to empathetically help good drivers get hired here at Magnum.
What's the best part of your job?
I love seeing drivers succeed! I think sometimes drivers are convinced that companies think they are just a dime a dozen. I try to prove that assumption wrong!
I try to always be straight and truthful. Seeing drivers start at Magnum fresh out of school and grow with the company to the point where they make great money, drive nice new trucks and are just generally happy people — that's what I love!
What's the hardest part of your job?
The over-regulation of the trucking industry! As I mentioned earlier, there's a whole chapter on what is required to be on the application. Then, there are company policies that we have to follow. It's all about safety, I get that, but it can get mind boggling sometimes and there may not be a clear answer for an issue that may come up.
The second hardest part of my job is that EVERYONE I hire eventually leaves — whether they retire here, or they leave for a job that fits their family life better or they move on to a different kind of trucking that we don't do (flatbed, tanker). And then there's the terminations, which can be frustrating also.
What are the biggest selling points about Magnum that you use when recruiting new drivers?
Magnum is one of the best small-medium companies to work for because we are ALWAYS making sure that our pay is in the top 75% of industry. Our trucks are some of the newest and nicest on the interstate.
There's a network of support within the office that can help a driver with everything from benefit questions, to accounting questions, to time off and wellbeing. I also remind drivers that if they cannot get ahold of anyone else and they're having a difficult time, they can always reach out to me and I can get them pointed in the right direction
What kinds of things should drivers look for when applying to trucking companies?
Recruiters have a reputation of lying, so right away, drivers should ask direct questions and not take anything for granted. Personally, I do not lie to drivers. I don't remember who I lied to about what, so it's just easier for me to be up front and honest all the time!!
Ask for things in writing. If a recruiter is not willing to put it on paper, then be alert! We send an official "Magnum Job Offer" email with pay and a roadmap to hire before we start on any background checks. We want to be up front and transparent on what we're offering.
We are not like some of the other companies out there that judge their recruiting on how many drivers they can hire. We judge our recruiting success with retention. Ask any company you are considering driving for what their turnover rate is. The national average turnover rate is around 98%, while Magnum's turnover rate is around 60%. It's something we're always working toward — hiring the right drivers and building a team of drivers working toward a successful career with one company.
Explore more topics in our other blog posts.
Hazmat: Everything you need to know before getting an endorsement
Faces of Magnum: Heather Werner
Highway Hero: Roger Miller