Faces of Magnum: Adam Krenzel
Known affectionately as "Polar Bear," Over-the-Road Driver Adam Krenzel has made himself a pillar of the Magnum family —  always willing to lend a hand or share a laugh.
How long have you had your CDL?
I started driving in 2001.
How long have you been driving for Magnum?
It will be 15 years this August.
Which division do you work for?
I'm an LTD regional over-the-road driver. In the wintertime, I'm home every weekend so that I can drive my son to all of his hockey games and tournaments.
In the summertime, I take him with me on the road for three or four weeks at a time. He loves it. It's awesome to get to show him places he learns about in school like Gettysburg or the Alamo.
What are the essentials you cannot live without having in your truck?
Satellite radio. You need to have that. And my toolboxes. I'm one of those people who wants to fix things myself.
Why did you choose to become a truck driver?
My neighbor growing up was a truck driver, and he would take me and his son out on the road with him for a week at a time. It was just fun. I thought, "Oh, this is the life!" I loved to go out with him.
I went to school in Wahpeton to become a diesel tech, but I didn't really like the job I was at. So, I went back to school. It was a 14-day program, but I was in-and-out in seven days, got my first job, and was on the road. With my farm experience, I could already drive. I'd spend summers with my cousins backing up tractors.
Do you use a CB radio? If so, what is your handle?
Yes I do! If you walked up to somebody in this company and said, "Do you know Adam?," they'll look at you like you're a monkey. However, if you throw the name Polar Bear out there, everybody knows me. It's funny.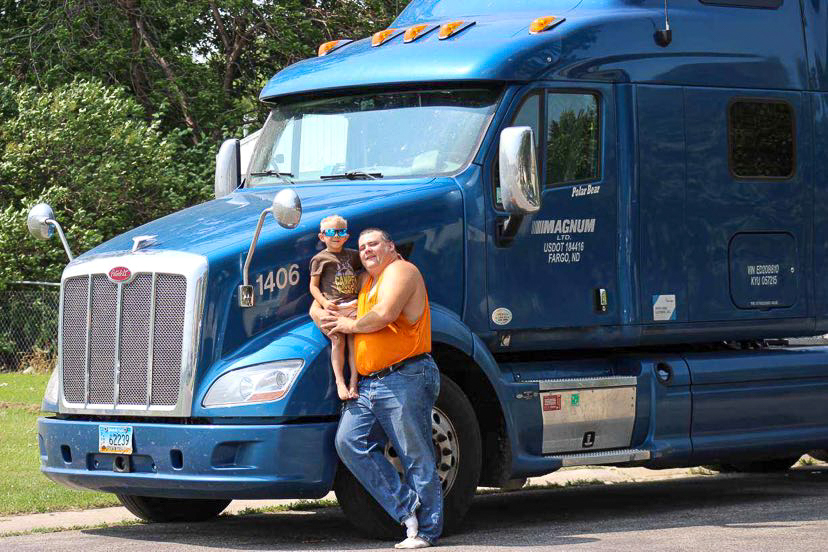 What is the coolest thing you have ever hauled?
The most interesting load I've ever hauled was a load of ping-pong balls. They blow them into your trailer through the doors — front to back.
When you get to where you are going, you back up to this hopper-thing, and they open the doors and they just come rolling out. Then they tilt your trailer way up in the air like they do with potatoes, and they all roll out the back. It was crazy. I had a whole trailer full, and it only weighed maybe 500 pounds.
What three things would you bring with if you were stranded on a deserted island?
Probably beer, TV and a radio. There's nothing that can go wrong with that combination.
Where is your favorite truck stop?
I'd have to say Iowa I-80 just because it's so big and there are so many interesting things to do. They have trucks indoors, plus the Trucking Museum and the Walcott Jamboree. They light up the sky at night. There are trucks that shoot flames out the stacks. It's really a sight to see.
What is the best thing about being a truck driver?
Just being a part of a team that is helping people. We are the most hated people on the road, but yet, when natural disasters happen and people need supplies, we are always the first ones there to help them out.
What is the hardest part of being a truck driver?
The hardest part is leaving my family behind. It's so tough to leave on Monday morning when my son asks if he can come with and I have to tell him, "No, you can't. You have school."
What do you like to do when you aren't driving?
My son and I are hockey nuts. I am actually the mascot for his hockey team, the Janesville Jets. I  put on skates with that suit and go out on the ice. The only thing you can see out of are two little holes by the mouth. I love it.
What is something you think everyone should know about truck driving?
It's not as easy as they think it is! Most people think that you get on the road and all you have to do is drive. True, but you need to remember we are driving an 80,000 pound truck that can't stop in five feet.
It's a tough job with a lot of stress. You need to worry about traffic, making appointments and dispatch. It's not as easy as it sounds.
What  is something that you are proud of relating to your driving career?
I've been accident-free except for animal hits, but you can't prevent those. My trucks are in great condition all the time, and I love the guys I work for.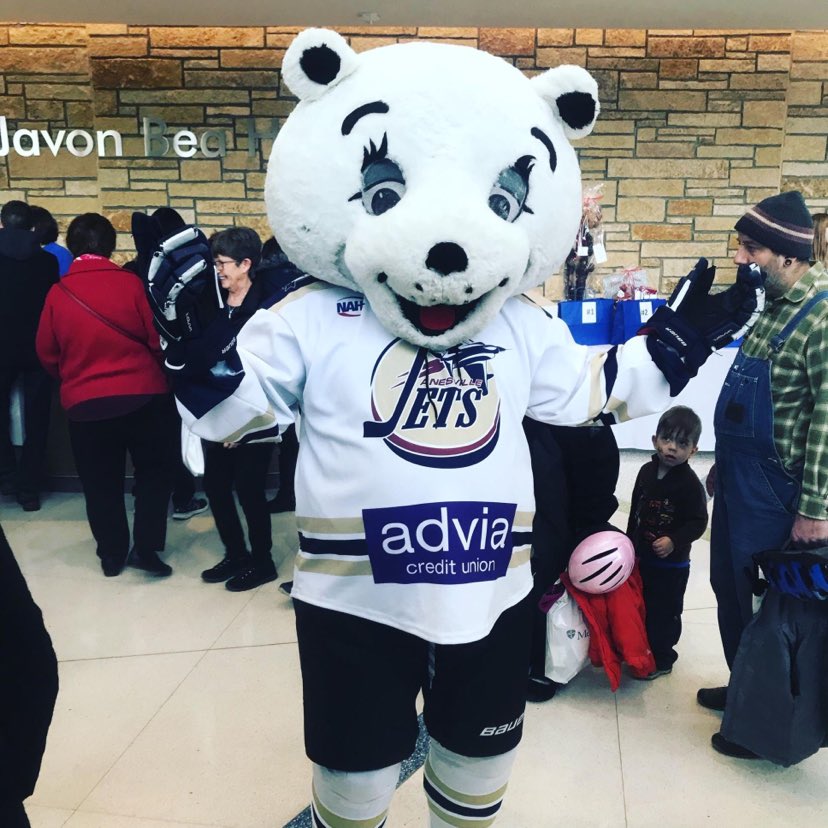 If you could have anyone in the world — dead or alive, fictional or real — ride along as your co-pilot, who would it be and why?
I honestly would want my dad back. He died in 2004, so I never got to take him out on the road with me. I would love to be able to take him out.
What is the best driving advice you've ever received?
Don't drive with your defroster on! I found that out the hard way. Heat creates water, and with the snow falling, water creates ice in cold temperatures. If you don't put heat on your windshield, the snow bounces off and won't stick.
What advice would you give to a new driver?
Respect is earned, never given. If you want loads and things like that, you have to do your part and show you're a team player.
The other thing is, drive in your comfort zone. Only drive whatever is comfortable for you, and don't let anybody push you.
Explore more topics in our other blog posts.
Hazmat: Everything you need to know before getting an endorsement
Faces of Magnum: Sean Randall
Faces of Magnum: Earl Christmann