Faces of Magnum:
Amy Bakken
With her quick-wit and a smile that lights up the office, Digital Marketing Specialist Amy Bakken contributes to the high morale and work ethic of Magnum's marketing department.
Tell me a bit about yourself, Amy!
I graduated from South Dakota State University (Go Jacks!) in 2021 with a degree in Advertising. I've always loved art so I knew the marketing/graphic design fields would be a great place for me. I'm the last of four children to my parents, and I'm known as auntie to three cuties.
For fun, I enjoy spending time with my friends and family, traveling, spending time outdoors, visiting new breweries, cooking new recipes, working out and watching sports. The last few years have been full of traveling for me – I've visited 20/50 states so far, with a little bout in Italy! Most recently, my friends and I drove to Glacier National Park and hiked a 16-mile loop to the tops of the mountains.
What is your current job title?
I'm one-third of the marketing team as a Digital Marketing Specialist. Our department works with all five divisions of Magnum, so my favorite part of my job is that each day truly brings something different! I help manage Magnum's social media, create graphics and all internal/external marketing materials and advertisements for Magnum, and even dabble a bit into our public relations. It's always fun seeing our work come to life – especially on billboards!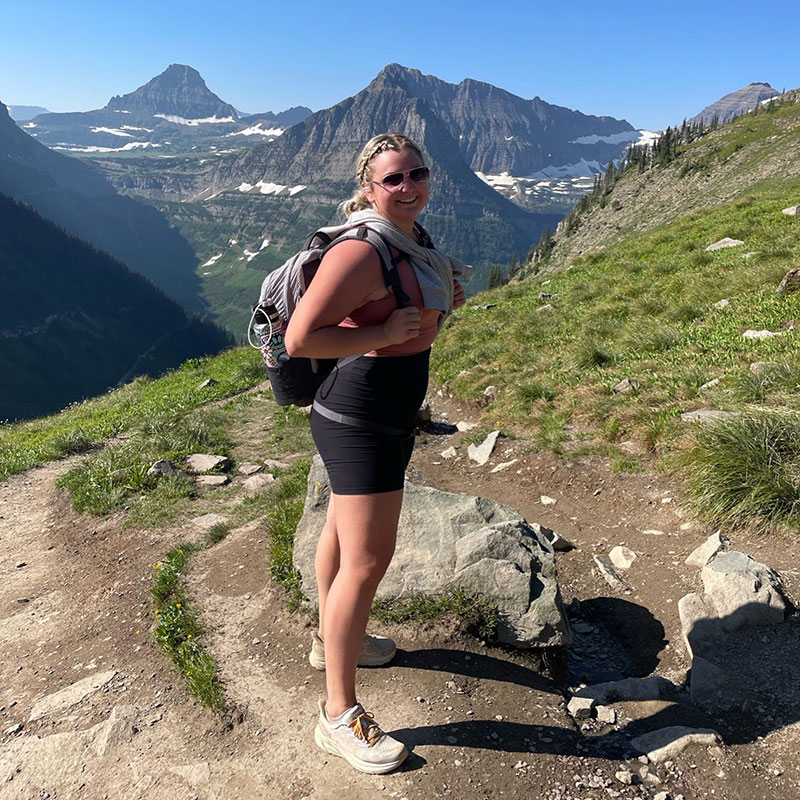 How long have you worked at Magnum?
I've worked at Magnum for about a year and a half now.
What is your favorite part about working at Magnum?
My favorite part of working at Magnum is definitely the people. Cliché, but everyone at Magnum truly looks out for one another and treats each other like family. It's a special place to work!
What advice would you give to someone just starting out at Magnum?
Oh gosh, where to start! I started with no knowledge of the transportation industry right out of college, so do not be afraid to fail or to put yourself in a position to learn something new. There's so much opportunity for growth – embrace the new setting and everything it has to offer!
Also, don't be afraid to ask anyone for help. Everyone is so kind and more than willing to guide you in the right direction!
What's something that might surprise me to know about you?
I'm a volleyball coach! I've coached 12's, 14's, and 16's club volleyball teams since I was 17. Participating in sports, whether it be playing or coaching, has always been special to me – I give it credit for making me who I am today, and hope to share my passion with younger players!
Explore more topics in our other blog posts.
Faces of Magnum: Nick Dahlen
5 Steering Wheel Safety Tips
Faces of Magnum: Zach Dahl