Faces of Magnum: Mariela Jorge
Moving from the dock to behind the wheel, LTL Driver Mariela Jorge found a home at Magnum's Coon Rapids terminal.
Tell us a bit about yourself.
I'm the second oldest of 10 brothers and sisters. I love tres leches cakes, and I have a big garden with hopes of maybe one day providing produce to the local food shelf. I still need about 20 more credits to finish my A.A.S. for Business Management Computer Systems.
I'm from a beautiful place in front of the river where I can see the tides bring in sharks. Where am I from? I can see the moon's reflection and far away, the fish jump on it. Where am I from? Our elders teach us to celebrate the dead with a thousand cempasuchil flowers, with a big smile on our face. We spend night and day at our local cemetery celebrating our ancestors.
I'm from Veracruz, Mexico, but I love Minnesota just as much. Where I can see sunflowers growing and catfish swimming in the Mississippi river, where dill pickles become a snack – not just an ingredient on a salad. The best is Autumn, with apple cider tea and crispy apple caramel pie with walnuts. Is there anything else better to try when you get home from a cold walk around the block?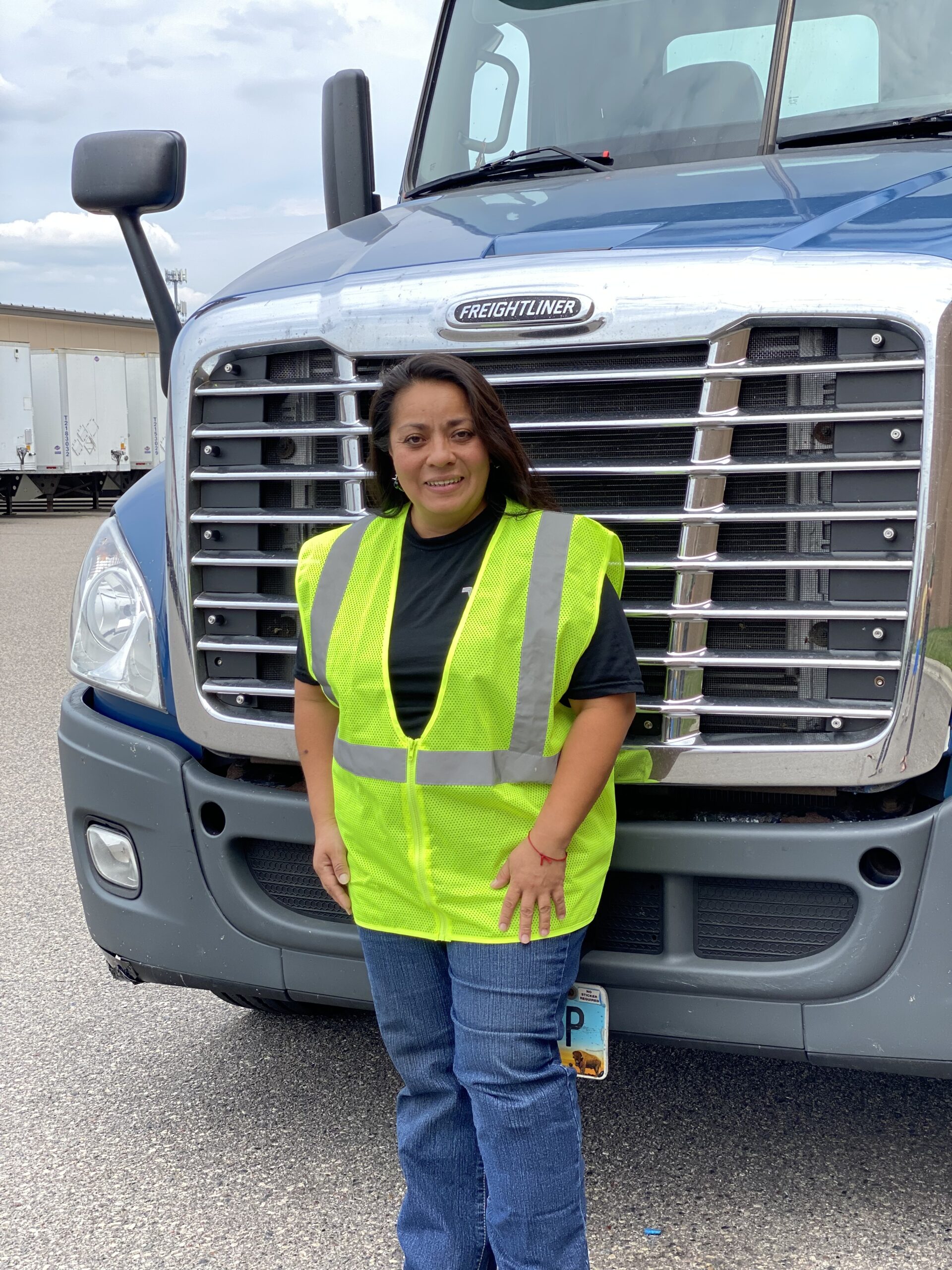 How long have you had your CDL?
I strongly believe that I was destined to have my CDL long ago. It all started around 2008 when I lost my job in a restaurant, driving around the city for days with my child. I went to apply to an orthodox job for a Junk Yard at A-Abco Auto Parts. This place was my last hope and fortunately, I got the job. This opened my mind to explore different career options – not just at hotels or restaurants. Then gradually, I moved on and started driving a tow truck around the state for about five years. Although it's dangerous driving a 53' footer, I can't compare the sensation and the power of having 80K on these little hands.
How long have you been working for Magnum?
Which division do you work for?
In my opinion, I can say I belong to the best terminal – Coon Rapids, MN. I'm an LTL driver. I'm close to home, groceries and a gas station. I feel safe here.
Why did you choose to work for Magnum?
I wanted to keep doing things related to driving. There's nothing better than becoming an experienced driver. Working at the dock gave me a chance to notice that Magnum offers the opportunity of driving classes, so I took the class.
Why did you choose to become a truck driver?
Life keeps us where it needs us. It's some sort of natural selection. I think the question should be: Why do I choose to continue being a truck driver? There are multiple reasons – both social and economic.
What is the coolest thing you have ever hauled?
I'm not sure I could pick! I've hauled a John Deere four-wheeler, bare root plants, chemicals… chemicals scared me a lot. My first time, I was looking in my mirror over and over and asking myself when was I going to explode? What's going to happen? Then I remembered my training, and uffdah – all good now.
Do you use a CB radio? If so, what is your handle?
I don't use a CB radio; maybe one day I can have a handle.
Where is your favorite truck stop?
I'm an LTL driver in the Minneapolis area so I don't go over the road, but my favorite one so far is Casey's and Kwik Trip.
What is the best thing about being a truck driver?
The best part for me is sounding my horn at young kids when they pump their arms. I feel like I'm repaying all the truck drivers that would do that for me when I was a kid. Also, another best part for me is being a part of this company, driving truck.
What is the hardest part of being a truck driver?
The hardest part was that no matter what people say to you, no matter how many classes you take, you only get real experience once you get behind the wheel. You see what you see, and you react how you react.
There will be many people looking at you and will make fun of how many times you try to back, but only one will be strong enough to get out of their truck and help you back in safely or assist you with wherever you need help. That only comes from their own experience.
Where is your favorite place truck driving has taken you?
All of Highway 61 South towards La Crosse, Wisconsin. The view is one the most outstanding, so far none have come even close to it.
What do you like to do when you aren't driving?
Just like Sid the Sloth in Ice Age, I try to find a comfortable place to rest the day up. Just kidding! I love to garden and fish. Once fall comes, I set up everything for next garden season.
During the winter, I read books and I also make earrings for fun. So far, I have around 200 pairs. I give them away to whoever wants them, free of charge. I guess that is my relaxation time for the long winters in Minnesota.
What is something you think everyone should know about truck driving?
First, that we are not just one big truck on the road making traffic worse. We are fulfilling a need of basic products from grain to metal, from big cities to local residences. Truck deliveries are fundamental – an essential part of any healthy community.
Second, DOT or DMV facilities need to implement a few new classes. The first to focus on how dangerous driving is when people don't pay attention. The second, to focus on the difficulty to operate any type of commercial vehicle in inclement weather or through construction sites, and third – how to keep everyone on the roads safe.
What is something that you are proud of relating to your driving career?
Everything makes me proud. I passed all the tests, got my license on my first try, and now I drive a big rig. No one in my family has driven a 53' footer on an American highway, nor have they ever had a license. I'm also proud that I was trusted enough to have a chance to drive a company truck. I respect that a lot.
If you could have anyone in the world — dead or alive, fictional or real — ride along as your co-pilot, who would it be and why?
Mr. Courtney J. Schuur, Dec 28, 2017. He opened the doors for people like me. Being new in the towing business, he was full of knowledge and connections. He and all of his team helped us with towing units, repairing and tons of other stuff. He always made you feel like you were part of his family. You never saw envy, jealousy or discrimination of any kind in his eyes. I miss Corky's… he was such a patient teacher.
What is the best driving advice you've ever received?
G.O.A.L. was the best advice, is the best advice and will be for a long time.
What advice would you give to a new driver?
The exact same thing – G.O.A.L. was the best advice, is the best advice and will be for a long time.
Explore more topics in our other blog posts.
Hazmat: Everything you need to know before getting an endorsement
Faces of Magnum: Majestic Pounds
Faces of Magnum: Earl Christmann