Faces of Magnum:
Steph Sha
With her kind and patient personality, Safety and Compliance Coordinator Steph Sha files and follows up with safety claims in her new role at Magnum.
Tell me a bit about yourself, Steph!
My husband, Andy, and I have been married for 12 years. We love being outdoors, whether it's going to the lake, golfing, camping, fishing, grilling, or playing outdoor games! Recently, I have found that my new favorite outdoor game is Crossnet. As the winters get cold up in North Dakota, I keep myself busy playing in an indoor golf league!
Andy and I have a Mini Australian Shepherd/Collie mix named Maggie – while she is very sweet to people, she does not enjoy the company of other animals.
What is your current job title?
My current title is Safety and Compliance Coordinator. So, our safety team is notified of a crash, we log it into our system, then file and follow up on claims.
I moved over to Safety in January from the Customer Specialist role and am really enjoying the change. It has been so much fun getting to know the Safety team better – they are all great to work with!
How long have you worked at Magnum?
I've been at Magnum for 14 years now.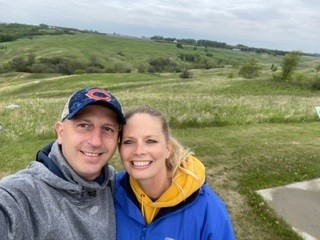 What is your favorite part about working at Magnum?
Magnum is truly like another family to me, and people genuinely care for their coworkers.
What advice would you give to someone just starting out at Magnum?
Practice time management, it will help you in most stressful and overwhelming situations!
What's something that might surprise me to know about you?
I have the ability to make a 30-second story last 30 minutes (LOL). You just really need all the details and a couple mini-stories in between!
Explore more topics in our other blog posts.
Faces of Magnum: Shannon DeWitt
Google's Most Asked Trucking Questions
Faces of Magnum: Brad Devig